How to Disable WordPress Comments
Comments and likes are often seen as prized "social proof," of making connections and building authority with your WordPress site – but not always. When comments are taking up time and not making a clear contribution to the goals of your site, WordPress offers ways to disable them on single posts and pages or even your entire site. Disabling WordPress comments is easy with tools included in your site's default settings, or with a variety of free and premium WordPress plugins.
1. WordPress Disable Comments on Post / Page with Screen Options
You can disable comments on posts and pages one by one. Using Screen Options settings you can disable or allow comments on the individual page or post you're working on.
To disable the comments section from the current post or page,
Click the Screen Options button to open a drop-down menu of options for content that can be displayed when the page or post is published.
From the drop-down menu, select Discussion, and from the options offered, uncheck the Allow Comments box. This disables the comment option for that piece of content only while leaving it enabled for other pages and posts on your site.
If you decide at a future time to enable comments on that page, simply return to Screen Options in edit mode and check the Allow Comments box to begin showing comments going forward.
How to Disable WordPress Comments
2. WordPress Disable Comments using Plugins
We tested two plugins for Disable Comments.
Disable Comments – Remove Comments & Protect From Spam
Disable Comments
Using one of these plugins you can turn off comments / disable comments.
Instantly allow or disallow comments from any post type in WordPress (Pages, Posts, or Media) to stop the spammers and gain complete control over your full website. WP-CLI Support & Control comments via XML-RPC and REST-API too!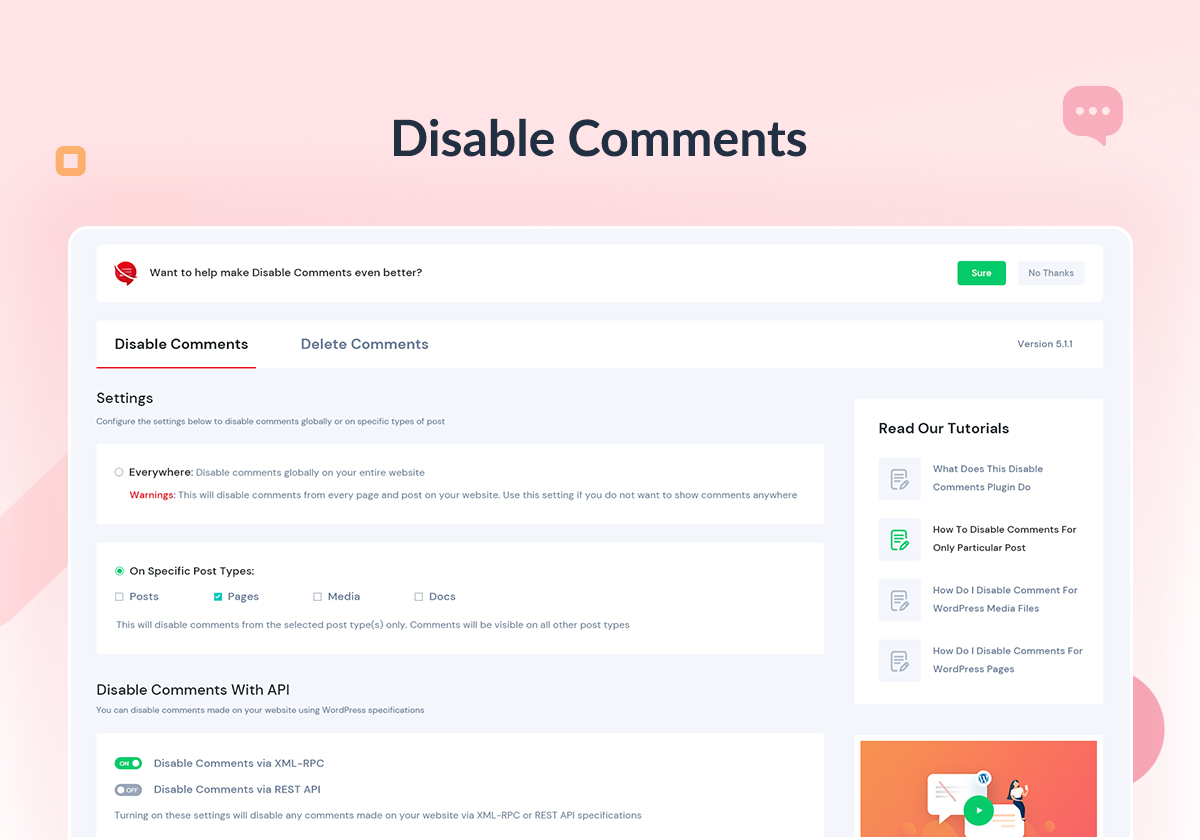 Features
Take Global Control Over Your WordPress Site
Override all comments-related settings throughout your website & manage your comments just the way you want.
Disable Comments On Posts, Pages & Media
Choose which posts, pages or media should allow comments from site visitors & configure Disable Comments accordingly
Disallow Comments On Multi-Site Network
Have multiple websites? Get rid of irrelevant comments on the entire network using Disable Comments Plugin.
Please delete any existing comments on your site before applying this setting, otherwise (depending on your theme) those comments may still be displayed to visitors. You can use the Delete Comments tool to delete any existing comments on your site.
How to install Disable Comments – Remove Comments & Protect From Spam plugin,
Go to the WordPress Dashboard "Add New Plugin" section.
Search For "Disable Comments".
Install, then Activate it.
The plugin settings can be accessed via the 'Settings' menu in the administration area (either your site administration for single-site installs or your network administration for network installs).
Disable Comments Plugin it's a tool for admins to fully disable comments on your website. This plugin globally disables comments on all posts, pages, and attachments. It removes all comment-related features and options. All related items will be removed from Dashboard, Widgets, and Admin menu. This disables comments plugin uses a smart algorithm and for the basic usage, you need to install and enable it. It's simple and powerful.
Before enabling disable comments plugin most effective will be to delete existing comments to avoid any conflicts with your current theme. Depending on the theme code existing comments can stay published.
How to install disable comments plugin,
There are a few ways to install plugins on your WordPress blog. First of all, you can download the plugin installer from the plugin directory and install it in the plugins section of the WordPress backend. Another way open the plugins section and click Add button. Then you can try to search disable comments plugin in the directory online. When you find the required item just click on the install button and activate it after that.
You can use one of these plugins. Just install and test plugins. Then choose the best one that you want. If you have any problems please comment below. And also share your ideas with us!!